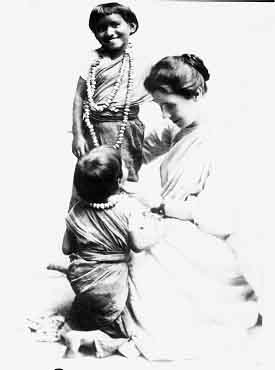 Every night before she went to bed, little Amy Carmichael prayed ardently and enthusiastically for God to turn her brown eyes blue as she slept.
Like many brown-eyed Irish girls in the 19th century, she adored the typical image of feminine Irish beauty
that included blue eyes and white skin. So, she prayed fervently--prayed with a hope that it seems only children can muster--for God to change the part of her that seemed to be designed wrong. She desperately hoped for God's intervention--but it never came. Amy had brown eyes from the day she was born to the day she died.
Regardless of how much she begged, God was not moved to effect a change in the design of Amy
. However, Amy's faith was not weakened or lessened by God's refusal. Amy still trusted God even if she didn't receive everything she wanted.
As she grew older, she began teaching a Sunday morning class at a local church for a group of women who were in need of spiritual direction and guidance.
This class eventually became a congregation
called the Welcome Evangelical Church in Belfast, Ireland.
She helped lead in and prepare for worship and people began to seek her out more and more frequently with the hope that her dependable and seemingly unrelenting faith might prove contagious. She continued there until she had the opportunity to hear
Hudson Taylor
preach about mission work in China.
Though
she suffered from various nerve
conditions that ill fitted her for international mission work, she answered the call all the sa
me.
After some preparatory time in Japan, she moved to southernmost India to serve as a Christian missionary among the people of the country.
The missionaries she worked with did everything they could to fit into the culture of which they were becoming a part.
Amy reflected once that she now understood why she had brown eyes--a blue-eyed missionary would have been an oddity that never could have truly fit in with the people--and was
thankful that God had persisted in God's intricate and elegant design instead of catering to the wishes of a girl who had not yet met her calling.
She even darkened her skin with coffee to further aid in her integration and assimilation into Indian culture. She did all of this, largely, for the children she ministered to in India.
It was not uncommon in India at the time for young girls to be given to the local Hindu
temple.
This saved the family of the girl money because they did not have to take care of the young one who was considered a drain on finances--unlike a son--and made money for the priests who often sold the young girls as prostitutes to help cover the expenses of the girl and the priest who controlled her.
Amy couldn't bear to let this
happen and so she devoted herself to rescuing these young girls and housing them in whatever way she could.
Soon, she had founded the
Dohnavur Fellowship
and provided a safe haven for over one thousand children who might otherwise die or be forced into prostitution and/or slavery. Given her devotion to pursuing and rescuing the abandoned children of India, it was no surprise that Amy insisted:
"One can give without loving, but one cannot love without giving."
Amy gave much and loved much because she had been intricately and elegantly designed to share God's love with people who needed it desperately.
Amy died in 1951 due in part to complications from an earlier injury obtained in her pursuit of ministry. In accordance with her wishes, she was buried in India near the Dohnavur Fellowship without a gravestone.
The children she had loved and cared for in India had to do something for the woman they loved and remembered.
They put up a fountain for birds over her grave and inscribed the hindi word
"Amma"
upon it. This word perfectly condensed God's intricate design into one word:
"mother."