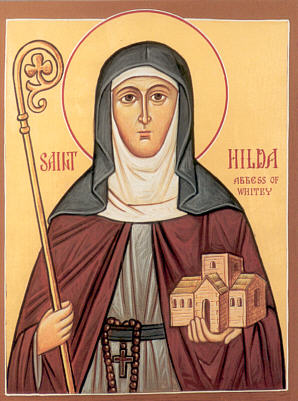 The Venerable Bede wrote about Hilda:
"All that knew her called her Mother."
Raised by a foster father of power and influence, Hilda eventually found her way to the monastery as a nun. She had followed in the footsteps of her widowed sister and after the calling that God was placing on her life. She expected the life of a monastic to be a pleasing one that gave her time for prayer, reflection, and intimacy with the God she loved.
All of this was while growing up among leaders who did not follow the faith that gripped her.
When her father and protector was slain in battle, she planned to go to her sister. While on the way, however, she received a letter from Aidan of Lindisfarne. He asked her to come to Northumbria and help found a monastery there. She went because she heard the voice of God speaking through Aidan's letter.
When she arrived, she was comforted in her decision by a calm assurance
that she was doing what God had called her to do.
As nun and monastic in Northumbria, she learned quickly about the life of one devoted to prayer and service. So quickly that soon she was appointed abbess of a local convent. She wore the pectoral cross of the abbess and led her sisters in Christ in lives of prayer to and adoration of God.
Th
e sisters loved her
and fittingly called her "Mother." It seems likely that this monastery was a "double monastery" in the Celtic tradition and would have involved both men and women living in separate houses but
worshiping together.
As most of the Celtic monasteries, it was not uncommon for the abbess of the nuns to lead both houses in worship. After a year or so, she was called away and appointed abbess of the new monastery at Whitby.
The monastery at Whitby was, most definitely, a double monastery and it is known that many of the young men found Hilda to be a spiritual mentor of incredible gifts and leadership. Five of the monks who she was "mother" to became bishops and several became saints.
It seems that the monastic life that she had been called to by her Lord and equipped with by Aidan gave her room to be a mother to those who hoped to serve God in prayer and leadership.
These young monks and nuns named Hilda as their mother as they went out into the world to lead and shepherd the flocks of the Church. By extension, Hilda became mother and grandmother to many Christians in the West in the 8th century. Years later, after her painful and slow death from disease and exhaustion, Bede would write a history of her for she had become a type of mother to him, as well. She offered hospitality and guidance to any who asked and taught those under her tutelage to do the same. In so doing, she shared the Faith that had gripped her and saved her from a young age while the foster child of a foreign king. Nursing leaders and shepherds was her calling and she did so gladly and ably.
Indeed she was truly called "mother."