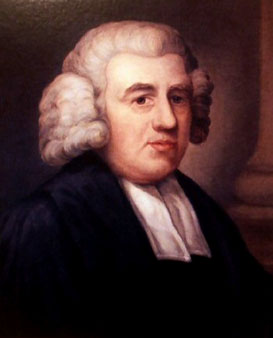 John Newton was born on July 24th, 1725, to a family of affluence that had grown rich on the backs of slaves. Though his mother died young from tuberculosis,
it was his father's desire that John should become a slave master
in the family business on a sugar plantation. Before this could occur, however, John was pressed into service to the empire as a naval officer. For whatever reason,
John tried to desert and was punished severely
: 96 lashes, humiliation in front of the whole crew, and demotion to the status of servant.
John's well-planned life that had been formed quickly by the desires of his father and the values of imperial England was falling down around him.

His pain turned him to thought of suicide but he refrained from a quick death and tried to throw himself into a dark abyss one choice at a time instead.
He requested to be transferred to a slave ship and made a servant of a slaver. His self-imposed punishment and exile was ended, however, when his father sent a crew to recover him. On his way back to
England
aboard the
Greyhound
, a terrible storm descended upon them.
John had only just changed places with another man when the man was swept overboard and drowned.
Having read Thomas a Kempis'
Imitation of Christ
and in a great panic John prayed to God in desperation for grace and protection. After the terrible storm had passed, that night, he began reading the scriptures and feelings the beginning of his conversion.
Whereas the promises and plans of the world had failed him and left him empty, the promises and plans of God began a process of conversion.
He would, eventually, become an Anglican priest—though not until June 17
th
, 1764—and experience God's grace and formation as he continued the process of conversion from who he was into what God was making him into.
Throughout John Newton's story it is evident that his conversion was a slow and steady process that involved the persistent formation and repair of all that was broken about him.
In fact, it was only after years of being a priest and continuing in relationship and conversation with other Christians that John eventually renounced the slavery that he had grown up under.
Some have criticized John Newton for dwelling in sin even as he claimed the mantle of Christian.
Charges of hypocrisy are not unheard when telling the story of John Newton.
Even though John later regretted his commitment to the slavery he had engaged in and supported, it cannot be simply overlooked. Yet, it only serves to strengthen the power of his story:
conversion is a process that takes time whereby we are made more into the image God has for us.
Though John's continued support of slavery is distasteful for us, it must be remembered that unlike many people who struggled with the issue he did renounce it--better late than never. Also, it makes the story
more real and more honest because it so closely resembles the struggles of all Christians in the process of conversion away from the world's image and into God's image.
Perhaps this is why so many Christians have connected with his hymn "Faith's review and expectation"—you might know it as "Amazing Grace."
Perhaps, it is that Christians can sing along with John Newton confidently:
Thro' many dangers, toils and snares,
I have already come;
'Tis grace has brought me safe thus far,
And grace will lead me home.