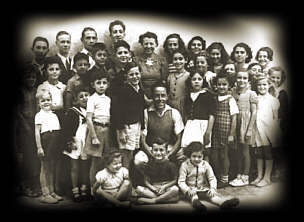 Andre Trocme once wrote "Look hard for ways to make little moves against destructiveness." This was a sentiment that characterized his consistent and insistent attitude toward the pervasive evil that abounded in Nazi occupied France.
As the Nazis conquered France they eventually conquered Le Chambon-sur-Lignon--the little town where Andre was a minister and where he lived with his wife Magda.
Unlike many of his contemporaries, Andre was unwilling to close his eyes against the brutalities and atrocities that were being committed in the name of a search for "peace" and "prosperity." He saw the Nazis for what they were--sinners with power in their hands and hatred in their hearts--because he had been watching them even when they were not directly threatening him.
As Jews began fleeing the soon-coming darkness that had not reached Le Chambon-sur-Lignon, they passed by Andre and his congregation.
Andre knew he only had a little while until the Nazis swarmed into town and began seizing and deporting Jews as enemies of the State. He had a decision to make as to whether or not he would find a way to resist the blight--the one soon coming to France--that was slowly slipping across the land on the backs of men willing to ignore their hearts and callings.
Andre decided to
resist the surging tide of destruction and
endeavored to find little ways to change the world that he lived in.
In 1938, before the fall of Le Chambon-sur-Lignon, he founded a private boarding school--College Lycee International Cevenol--with another local minister.
This school became a hiding place and refuge for thousands of Jews who fled the holocaust that awaited them.
Adults were offered jobs and found places to live while children were made students. Redemption blossomed in the eager work of a minister who understood the context in which he had been called to minister.
But, France would eventually fall to Nazi conquest and this brought Le Chambon-sur-Lignon within the reach of Nazi officials.
As the Nazis investigated what was happening in the little town, Andre was already at work planning a continued solution to protect those he had learned to love from the Nazi's "final solution." He worked with his own and neighboring congregations to develop a system of housing refugees when they arrived on the train.
They would be picked up and taken to the homes of the Christians and given a place to live and food to eat.
They were hidden from the imminent investigations and raids and Andre oversaw all of this process. They established "safe houses" and means of protection even within the heart of Nazi-controlled France.
In short, they provided a refuge for refugees by devoting themselves to hospitality, love, and eager risk.
Eventually, the Nazis began their efforts to put a stop to the refugee haven in Le Chambon-sur-Lignon. They tried to intimidate Andre but he would not be frightened by their threats or abuse. They demanded that he give them a list of the Jews he was hiding and he insisted,
"We do not know what
a Jew is. We know only [people]..."
This infuriated the Nazi officials but they found Andre to be exceedingly difficult to crack. Andre and his people continued to receive financial support from congregations all over the world--
Roman Catholic, protestant, Jewish, Quaker, Congregational and many other varieties of churches joined together to fight a common enemy with love.
The Nazis insisted that the citizens and Le Chambon-sur-Lignon were lawfully required to turn over the refugees they housed and loved but under the leadership and guidance of Andre they refused to acknowledge any right of the Nazis to command their allegiance. They knew well that their allegiance was first to the Kingdom of God and never to the powers that were sowing sin, death, and destruction in the world.
The Nazis were flabbergasted as to how a group of ordinary citizens could not be swayed to turn over people who were not even family to them.
The Nazis underestimated the calling of Jesus Christ to love our neighbors. Finally, they arrested Andre in an attempt to break the people and punish their leader. They were unsuccessful in doing so and eventually were forced to release Andre after some extended and severe abuse.
After his release, he went underground but continued to direct efforts to provide love and help to those who resisted great evil in little ways.
Andre died on the fifth day of June in the year 1971. Through his efforts and those of his friends and loved ones
nearly 5,000 Jews
were protected from the evils of the Nazis.