Justin Martyr was born in a place known as Flavia Neapolis some 70 miles away from Jerusalem. But he was thoroughly influenced by the Greeks and Romans in his birth, childhood, and upbringing. Evidently his family was of some influence and considerable wealth because he had the relative luxury of an education in a time when education was a nice thing largely available only to the wealthy and powerful. He excelled in his studies and moved on to study philosophy in an anxious pursuit of wisdom and truth.
He professed to be
a lover of wisdom but at times it must have been easier to believe he was a lover of the comfort and security that money and education afforded him.
Justin sought truth but found it nowhere that he looked until a Christian--one of those that Rome abhorred and detested--began to speak with him about the faith that he or she professed.
Justin asked his questions and wondered openly if it might not be the case that this Jesus was right when he claimed to be "The Truth."
As he studied the faith of the Christians more and more he found himself falling further and further into the grips of a faith that enlivened and comforted him in ways that influence, money, and acclaim could not.
Soon, he became a convert and made it well known to his colleagues, peers, and students that he was no longer on a philosophical quest to find truth because he had met "The Truth."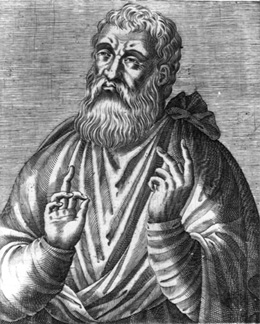 He identified himself in his numerous writings as a Samaritan even though he was most definitely a Roman citizen and he had been raised to serve and follow the gods of his father and his father's father.
Perhaps he identified himself as a Samaritan because he knew that in his faith he was the unlikely heir of the covenant promised to Abraham and others.
He knew that he had been grafted into a story that was not his own but was, in fact, a story that ended in redemption and resurrection. Thus, he was an outsider who had been loved and cared for by Jesus and and he was an outsider that was on the route that led to salvation and healing.
Or, perhaps, he identified himself as a Samaritan
because he longed to live into the role of the Good Samaritan that Jesus had talked about.
Perhaps Justin hoped to go where others refused to go to be with those the world rejected so that he might find Christ among the stranger and refugee. Regardless, he continued living a life of a philosopher and rhetorician but his speech turned to a testimony of what God had done in Jesus and what God wanted to do in the lives of those who heard Justin's words.
Given the incredible position that Justin had within Roman society he began to deliver the Gospel to ears that might never have heard it. He argued that while Rome was killing Christians it was missing the point and pronouncing Christians evil while being seduced to do so by evil itself.
He insisted that Christians were not evil and were, in fact, following after "The
Truth" even while others failed to see it.
Eventually he was arrested for having the audacity to say such things as: "We pray for our enemies; we seek to persuade those who hate us without cause to live conformably to the goodly precepts of Christ,
that they may become partakers with us of the joyful hope of blessings from God, the Lord of all."
and "Wherein is it possible for us, wicked and impious creatures, to be justified, except in the only Son of God?
O sweet reconciliation! O untraceable ministry! O unlooked-for blessing!
that the wickedness of many should be hidden in one godly and righteous man, and the righteousness of one justify a host of sinners!"
Finally, those whom he preached to brought him to trial with other soon-to-be martyrs. The prefect said to them, "Sacrifice to the gods or you will be mercilessly tortured."
Justin replied,
"Nobody in their right mind would give up faith for apostasy
and your merciless torture is what we desire because it leads to our salvation and gives us confidence to face a greater trial--
the judgment to which all men will come before our Lord and Savior Jesus Christ."
Then he joined with the others to be martyrs and invited the Romans to do whatever it was that they desired since they professed the Christian faith and refused to become apostates and sacrifice to the idols.
So, they were tortured mercilessly and finally beheaded as an example to the Roman citizens of how evil the Christians were and how good the Romans were.