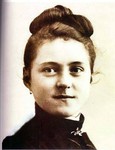 Therese was the youngest child of nine children born in Alencon, France. Louis, her father, was a man of vibrant and life-changing faith who

had applied to be a monk in his younger days.

Though his passion and earnestness was not questioned, he did not know (and didn't have much prospect of learning) Latin. Consequently, he was rejected from the monastic life. Azélie-Marie Guérin, Louis' wife and

Therese's mother, shared the same eager and deep faith that her husband professed and proclaimed.

She had considered becoming a nun but had been rejected as unfit for the convent on lack of skills. Though Therese's parents were rejected from the cloistered life, they were gladly and lavishly accepted into Christ's Kingdom and guided their children toward this same goal.

Therese's mother died when Therese was only four years old and this caused Louis to move the family to Lisieux

to be closer to family in this time of crisis.
Therese had a passion within her that seemed unnatural for a child of nine but when her older sister became a

Carmelite nun

Therese wanted to, as well.

She appealed to the abbess but was rejected because she was only nine years old.

Five years later, another one of her sisters became a Carmelite nun in the same convent as their older sister. At the age of fourteen, Therese felt that she was finally prepared to take her vows as a devoted minister of the Christian faith.

She was, again, rejected because of her age.

She must have felt some of the same pain her mother and father had felt before her. But, she was grounded in the reality of the faith they had passed on to her and continued to persevere in her desire. When her father took her to Rome, she had an opportunity to speak with the Pope for only an instant. In this moment, she asked if he would make it possible for her to take

the vows that stood for the devotion she already possessed.

Her greatest desire was to formalize what already was within her. He advised her to trust the movement and decision of the ministers in charge.
At the age of

fifteen, the bishop allowed her to enter the convent and she did so gladly.

Her life and her writings were characterized by a certain way of looking at life. Her repeated rejection--and her family's heritage of rejection from service--had formed an attitude and approach in her that prepared her to do great things by doing little things. Therese's life was characterized by small actions that she ascribed great importance to.

She wrote, "I prefer the monotony of obscure sacrifice to all ecstasies. To pick up a pin for love can convert a soul."

It is in this thought, saved for all generations of Christians to remind themselves, that we see the beauty of the story of Therese de Lisieux. She knew that love could change the world if people would practice it.

She saw the redeeming and saving power of love and held onto it fiercely.

She would advise all who asked not to endeavor to do great things because works and feats were of no consequence for the salvation of the world--rather, they should endeavor to be loving in the small and insignificant moments of the day.

By loving more greatly, she reasoned, the person was being saved and sharing redemption with those along her way.

Though her mother and father has been rejected for not being fit for service, Therese found true service to be an act of daily redemption and love and not works or gifts.