William Booth was born to a family that had wealth and was able
to provide him with an education but his father made some bad financial decisions that resulted in the loss of their wealth and a slow and painful descent into poverty.
Eventually, William's education was no longer affordable and he was withdrawn from school and apprenticed to a pawnbroker.
While undergoing his apprenticeship, he began attending services with a nearby Methodist congregation. Among these people, he began the process of his conversion away from sin and into God's calling upon his life. After he had finished his apprenticeship, he fled from the profession and sought work anywhere except pawnbroking.
He tried preaching for a living but found it hard to make enough to supply even his most basic needs.
Finally, he took a job at a pawnbroker in London--even though he detested the job--so that he could supply his basic needs and also preach to the people of London.
Catherine was born into a family of modest means that moved several times in her upbringing before settling in London.
By the time she was twelve years old, Catherine had read th
e Bible through eight times.
Her familiarity with the scripture made her a stunning interpreter to those who were willing to listen to a young girl and woman interpret the scripture.
She would, during these years, seriously question the validity of prohibitions against the involvement of women in the inner workings and leadership of the Church.
At the age of fourteen, she was very ill but would recover and used the time she was bound to the bed to read and also to write articles about social ills like alcoholism.
The two would meet in London in 1852 when William preached to the
congregation that Catherine was a part of.
They would be married in 1855 in a simple ceremony in order to save money for missions and ministry.
Though they were Methodist, at first, they left when William was continually assigned to pastorates he did not feel called to. William and Catherine felt called to the evangelistic life of meager means and much travel.
When his requests to be an evangelist were denied yet again, he and his wife resigned the pastorate and were barred from
Methodist circles.
Their theology and doctrine, however, remained essentially the same. During these formative years in the pastorate, Catherine began teaching children and young people and, then, speaking aloud in worship services and offering her testimony before the other adult members.
These years were a time of formation for Catherine who believe in the rightness of women speaking in the church.
Their heart, however, was in missionary evangelism in London.
They started a
mission in London for the poor and needy.
William cared for the destitute and downtrodden providing them with sustenance and support. They opened their doors to criminals and prostitutes, as well.
They hoped to associate with the kind of people that Jesus had associated with.
Finding themselves in good company, Catherine began reaching out to the wealthy in the community and seeking their financial assistance for the good work being done at the mission. She was surprisingly effective at persuading the affluent to share their wealth with the needy and the mission was well-supplied even if its workers were never well-paid.
Eventually,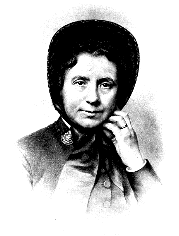 they renamed the mission the "Salvation Army" and utilized military imagery to govern and inform those that were involved with it.
They were admittedly an army with no weapons. William took the title of "General" and Catherine took the title of "Mother." Their mission was exploding and expanding. It reached out throughout not only Britain, but also to other countries in need of hearing a message of salvation by grace through faith and conversion away from brokenness.
During only William's life the Salvation Army started missions in 58 countries and colonies on the principles that salvation and redemption were free things and not commodities to be traded in or marketed.
They hoped to provide for the poor and love them in a society that didn't even want to acknowledge them. Upon Catherine's death, their home was given to a cause that helped children with learning disabilities. Catherine died in William's arms with her family around her. When William died, years later, he was buried beside his beloved wife.
Upon their deaths, they were not wealthy but they were well-respected and much-loved. They were not powerful but they were influential. They were not repaired--yet--but they were converted.