Some have argued that the basic unit of Christianity is not the individual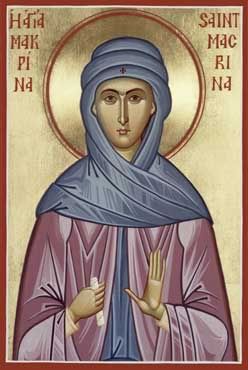 but, rather, the family unit. If this is the case, then one of the great families in Christian tradition must be St. Macrina's family. St. Macrina the Younger's grandmother was St. Macrina the elder. Her brother's include St. Gregory of Nyssa, St. Basil the Great, and St. Peter of Sebaste (all three were bishops at some point). Macrina's parents were St. Basil the Elder and St. Emmelia. In such a canonized family it seems that young daughter Macrina could be overlooked or overshadowed--brothers Gregory and Basil were, after all, two of the three Cappadocian fathers who went on to be great champions of orthodoxy and significant influences for Christian theology.
And, yet, Macrina was not a bit player to be overlooked or mentioned in passing but, rather, was inspiration and encouragement to all who met her and fell within the sound of her teachings.
Young Macrina was lucky enough to receive an incredible education which included memorizing large sections of the scriptures that her family was devoted
to. She memorized the entirety of the Psalter and was formed and informed by the great stories
of the scripture. Her intelligence was remarked upon by her well-educated brothers and her beauty was well-known by many. It is easy to say that Macrina had many advantages. However,
unlike many she did not take these things for granted.
Rather, she understood her gifts as not her own but given for the use of the Kingdom.
She was betrothed to a young man of considerable reputation
and whom she, apparently, loved but this young man died after the betrothal and before the wedding. For the sake of fidelity, Macrina considered herself already a wife--of a man hidden in Christ with God--and took no other husband. Instead, she remained committed to taking care of her family as they--one by one--died.
When Basil the Great had returned from receiving a wonderful education in Athens, it was Macrina who grounded him in faith and in opposition to the ivory towers of academia. Clearly, learning was highly valued in their family and, yet, Macrina grasped that education is not salvific and Christianity is not a religion of redemption through knowledge or intelligence. And, so, Macrina became a spiritual center for the great Cappadocian fathers: Basil the Great, Gregory of Nyssa, and Gregory of Nazianzus. Though they would fight and debate and champion orthodoxy, Macrina reminded them of the spiritual and essential nature of the faith. Though the Cappadocians may be well-known there is no doubt that they owed more than we can articulate to Macrina.
Basil
and Gregory would remark following her death that she seemed to grasp innately and essentially at what it meant to be a servant and follower of Jesus. Her love for and devotion to her family helped to link them together even as the ravages of disease and time whittled them away.
From her deathbed she consoled brother Gregory about death and redemption.
As Gregory suffered grief for Basil and Macrina so closely together it was Macrina who comforted him with her prayers and teachings.
There is much to be said for the great mentor of such great teachers (Gregory would go on to write a biography of Macrina to share her life with others as she had shared it with him) but there is, perhaps, more to be said for a sister devoted to love and compassion for her family and her brothers and sisters in humanity. In this way, Macrina is not solely the devoted sister of Gregory, Peter, and Basil but, also, the devoted sister of all of us--constantly calling us back to a spiritual reality she experienced so clearly.