Samuel was born in Russian Lithuania in 1831. Though
he inherited his name from his father he had
the misfortune of becoming an orphan as a young boy due to the loss of his parents.
However, he did not lack family support in any way as he grew and matured. Instead of becoming a ward of an impersonal but efficient state, he was turned over to his older brother who became a sort of father to him.
What was left of Samuel's family clung tight to each other so that they might weather the storms of life and challenges
thereof
. Samuel's older brother was a successful timber merchant and this allowed for Samuel to receive a quality education during his childhood. He proved to be an exceptional student who valued the expense of his education by working hard to make the most of it.
Samuel knew that sacri
fices had been made to provide for him and that sacrifices of self were powerful things not meant to be overlooked.
He and his family were regular attendees of the local synagogue that they were a part of. It was there that they had learned the power of sacrifice and the importance of love in the world.
When he had grown to the age of fifteen, Samuel traveled to rabbinical school so that he might fulfill his family's great desire for him: to become a rabbi. He provided for himself as he studied by tutoring other students and installing and maintaining glass throughout the city of Zhitomir where he was in school.
A group of Christian missionaries put a copy of a Hebre
w translation of the New Testament into his hands and he took to it with his notable academic acumen.
In it, he found a story of sacrifice and love that shocked him. He met Jesus in the text and found a longstanding hope fulfilled. Samuel became persuaded that Jesus had been the Messiah and that Jesus truly was God and savior. He began a regular struggle with Jesus in the text but was never far from the New Testament he had received.
He transferred out of rabbinical school to attend school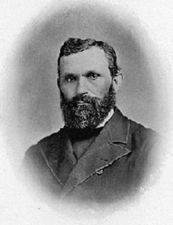 in Germany (in Frankfurt and at the University of Breslau)
and added German to the list of languages he already spoke. During this time, he continued to struggle with his growing faith and the challenges it presented to him.
He knew he was no longer becoming a rabbi but he didn't know what he
was
becoming.
In 1854,
he moved to America for a little while where he united with other Christian Jews
(which he now considered himself one of) in New York.
He joined with a Baptist congregation where he made his confession and was baptized.
A short while later for unknown reasons he began attending a Presbyterian church but, soon, left there for an Episcopal church.
Having found a comfortable home among the Episcopalians,
and seminary training under the Presbyterians and Episcopalians, he soon heard a calling upon his life that asked for sacrifice, faith, hope, and love.
Having not yet completed his seminary training, he committed to become a missionary to China.
He was ordained and sent. While in China, he began translating the scripture into the Shanghai dialect and devoting himself to the people he met there.
Further, he founded St. John's University in Shanghai so that others might be afforded the opportunity to be educated and meet the Jesus who had changed him in the scriptures he had received.
Eventually, he became the bishop of Shanghai and served there until he was so poverty-stricken and ill that he had could no longer perform his duties as a bishop.
It was to Lithuania that he retired from the bishopric in favor of ministry to those close to him as his days waned.